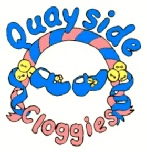 If you would like us to dance at your fayre, fete or fun day or to book us to entertain at a wedding, celebration or function, please contact Andy on 01202 605288 or by e-mail (see Home Page)
Our fee for 2022 remains at £120. We would normally perform for two 20 minute slots with a short break in between.
It is possible that we may accept a reduced fee if we can collect for our nominated charity.
As we are a clog-dance side we need a hard - standing of approx 20 feet by 20 feet (approx 5 metres by 5 metres). We cannot dance on grass.
If the event is outside, we cannot perform if it's wet / slippery. We may be able to perform indoors if the surface is suitable - not carpet. We may be able to dance on a stage if it big enough or on boards if these are not too bouncy.
If the event is not suitable for dancing you could just hire the Cloggies Band for a reduced fee - contact us for details.
We have Public Liability Insurance for £10M. (£5M for the Band without dancers.)